Tel/WhatsApp +27(83)4632652
Slingshot RPM 2018
Some of the busiest schools in the world use the RPM as their go-to kite because of its reliability in any wind condition and its bomber construction. Meanwhile, at the opposite end of the spectrum, the RPM is a championship-level freestyle kite that has propelled multiple riders to world titles. For general freeriding, it provides responsive handling, smooth power delivery throughout the window, great boosting and powerful but predictable loops. For dedicated freestyle, the RPM delivers the competitive edge with amazing pop and carry, flawless unhooked performance and multiple customization options to fine-tune handling to adapt to varying conditions.

Slingshot RPM 2017
The RPM returns for 2017 carrying the reputation as one of the greatest kites every produced. Spanning the broad spectrum of users, the RPM is capable of winning multiple world titles as well as appealing to riders of all styles and abilities. From beginners who want a responsive kite with easy relaunch and great depower, to weekend warriors who want to boost big, to world-class competitors like Youri Zoon and Carlos Mario, never before has one kite appealed to so many different types of riders.


The RPM's Open-C Canopy is a proven shape that has spawned an entire category of kites. For general freeriding, it provides responsive handling, smooth power delivery throughout the window, great boosting ability and powerful but predictable loops. For dedicated freestyle and wakestyle, the RPM's shape delivers amazing load and pop, smooth pull, massive carry and flawless unhooked performance. No matter what category you fall into, the RPM will improve your entire kiteboarding experience.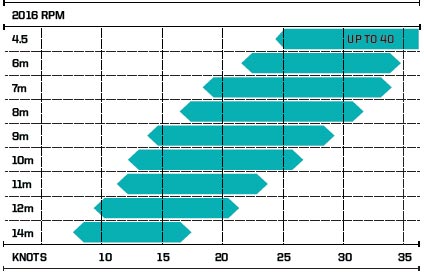 Slingshot RPM 2016

The legend continues with the 2016 Slingshot RPM: The renowned all-around weapon of choice for world champion tricksters, soul-searching surfers and casual weekend-warriors alike. Returning as the flagship kite on Slingshot's legendary lineup, the 2016 RPM is loaded with exciting and innovative features that will again place this kite at the top of the food chain and uphold its reputation as one of the most versatile and rock solid kites ever produced.

Last year Slingshot introduced the Intuitive Response System (IRS) Bridle – an industry-first innovation that replaced bridle pulleys with a low-profile bungee setup that improved steering speed, response and general high-end performance. Feedback on the IRS Bridle was immediate and overwhelmingly positive. The 2016 Slingshot RPM comes equipped with the same system, which gives riders a more fluid connection to the kite and gives the kite improved stability and smoother, more reactive performance.

In addition to the industry-leading IRS bridle, the 2016 Slingshot RPM features upgrades to its already bombproof construction, including a tougher, more durable diamond leech trailing edge and a new DP 175 Dacron leading edge and strut material. These upgrades complement Slingshot's proprietary tri-tech protection, making this one of the toughest, most durable kites on the market. Also returning to the 2016 Slingshot RPM is an upgraded One Pump Speed System, which increases inflation efficiency to get you out on the water faster and with less energy than before.

We have recently gone through a major effort in Cape Town, South Africa, to survey and test the market for kites, to find out, which are the best kites to purchase. For this we have interviewed many experienced kitesurfers, what they would buy today and for what reasons. Their primary reasons where: Product quality and durability, access to spare parts throughout the world when they travel, and flying characteristics (performance, de-power, re-launch, safety). The kite that won the survey by far is the Slingshot RPM. No surprise, it is also the most sold kite throughout the world lately. With its huge depower you can fly the Slingshot RPM as a beginner and with its great performance also as a professional in freestyle and for wave riding. Even former world-champion Youri Zoon won his two kitesurfing world titles with the Slingshot RPM!
On the fantastic re-sale value of the Slingshot RPM: You will find that there is not even a second-hand cheap RPM in the market. The Slingshot RPM has a huge re-sale value.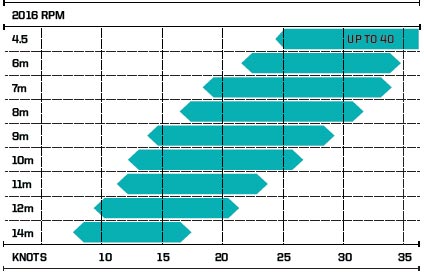 Slingshot RPM 2015

The Slingshot RPM is the undisputed leader of its category and followed by all. For the last 5 years the Slingshot RPM has proven to be the best and most versatile kite in the market. 2 PKRA world titles and countless high performance sessions under its belt makes it "The One."

Taking the existing Slingshot RPM to a new level was a break through we found in bridle technology. Chief-designer Tony Logosz worked closely with our Elite Team to ensure that the new Slingshot RPM could adapt to their demands, and after countless hours of fine tuning. Logosz was able to develop the first ever Intuitive Response Bridle. This new bridle incorporates a revolutionary shock absorber. We have dubbed this feature the IRS Bridle (Intuitive Response Shock). This new bridle eliminates the time necessary for the pulley to travel for and aft depending on the rider control of the kite.

The new 2015 Slingshot RPM is a benchmark not only in performance but also in durability. Over a decade ago we invented and patented a new standard for "single point" inflation systems. "One pump " started it all and is still the number one necessity that makes setup and tear down so convenient. One Pump has evolved for 2015 to become our new One Pump Speed System. With the addition of our new full sized inflate and deflate valve, set up and breakdown are accomplished with ease. The 2015 RPM is the One.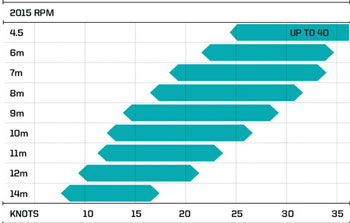 Slingshot RPM 2014

Pro and high performance riders world wide know the secret behind the RPM. The open C platform allows for fast riding, explosive pop with the correct amount of boost, travel and drift. This allow for aggressive moves with fast and solid landings.

We added an 11M kite to our full range of sizes to help you create your perfect quiver. You can dominate freestyle or hardcore crossover with the 2014 Slingshot RPM.

The new 2014 builds on our proven legacy with a kite that rides faster, is more responsive, more crisp and more dialed in than ever before. Through years of testing and rider feedback, we have made new improvements and subtle refinements to set a new standard for performance and durability again. The new "Diamond Leach" technology improves air flow for "clean" air release off the trailing edge. This feature improves aerodynamics, and is a major part of why the kite is faster, and has a new crisp feel. The Diamond Leach improved the over all stability of the leach. This significantly helps with wear and tear or flutter.

The full suspension bridle was updated with a new frictionless pulley. The design has reduced weight, and eliminated wear associated with mechanical pulleys. Complete Package Includes: RPM Kite, Compstick Control Bar, Lines and Backpack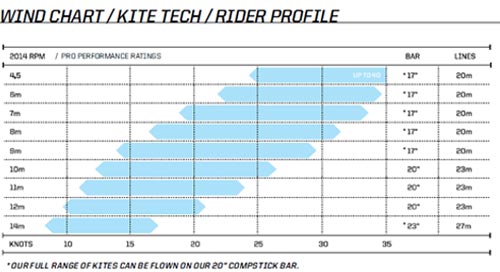 Slingshot RPM 2013

The introduction of the Slingshot RPM changed everything five short years ago. It's proven "Open-C" canopy design and Slingshot RPM's patented Split Strut technology continue to push kite design to a new level even today. The Slingshot RPM created - and still dominates - the 3 Strut "Open-C" category.

Slingshot has made steady improvements and subtle refinements through years of testing and rider feedback, until reaching the pinnacle it is at today. The 2013 Slingshot RPM Crossover kite is a powerful combination of aggressive freestyle characteristics and progressive crossover performance which makes it a superb wave kite as well. It's low profile wingtips increase turning speed and reduce drag, while the custom attachment points optimize kite performance and deliver complete tuning from freestyle to wakestyle in seconds. Inspired by our world class team, the Slingshot RPM delivers unmatched out of the box performance with many options for personal customization. The Slingshot RPM is excellent for every skill level: from beginner up to world champion. In particular for Cape Town's conditions, strong wind, superb waves and flat water in between, the Slingshot RPM kite is unbeatable. And it has the best price.

Over the years, we have built a full range of sizes to help you create your perfect quiver. From dominating freestyle to wave kitesurfing, the 2013 Slingshot RPM retains it's standards of durability and stability along with it's aggressive look and feel on the water.