Tel. +27 (0) 83 463 2652
WhatsApp +49 173 367 3345

The best Slingshot kite ever built: we still have some of the classic & bullet proof 2015 RPM and 2016 RPM in stock, with 109 panels (giving at the seams a strong structure; not like the RPX with only 20 panels), and with re-inforced trailing edge, everything for high performance, high durability and long life.
A Kite panel picture is here >>
The classic world-champion kites. Prices are here >>
Slingshot FUEL SPECIAL SALE!
The good classic Slingshot Bamboo Wave Boards 2015-2019 still in stock
Wing/Surf Foil with H2 wing SPECIAL SALE!
You can also kite foil this wing.
Tips and tricks: Video tutorial - How to change the depower rope of your Slingshot bar >>



Slingshot RPM, Rally, Turbine, Asylum, Screamer.
Slingshot Wave SST, Rally, Fuel, Asylum, Misfit



All sizes available.
Like our Facebook page.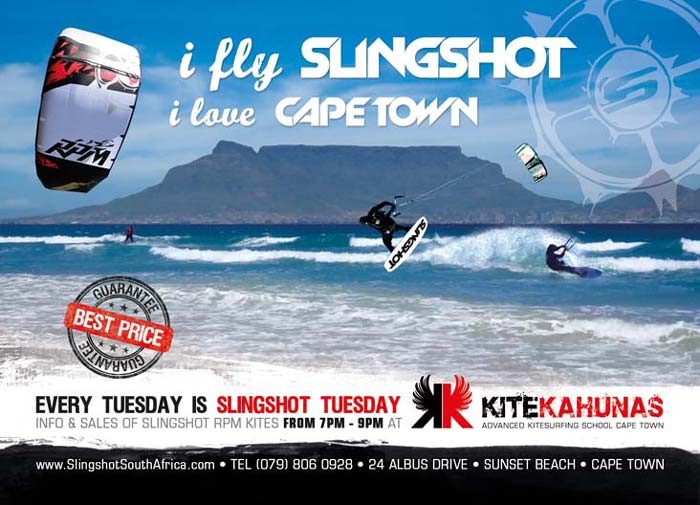 SLINGSHOT SOUTH AFRICA
Tel (083) 463 2652
at KITEKAHUNAS - advanced kiteboarding school
• 23 Venus Circle • Sunset Beach • Cape Town •

Please note that we are not a shop with regular trading hours, but a kiteboarding school.
So if you visit us without appointment, we might be on the water.
Get -10% discount on Slingshot kites if you book a KITEKAHUNAS Wave Camp